Customised experience
In addition to the offline features, you can benefit from advanced features. Belrobotics offers you two types of subscription: Basic and Premium. Decide which formula suits you best by looking at the table.
Offline offering
Basic offering
Premium offering
Features
Offline
Basic
Premium
Belrobotics guarantees software updates during technical maintenance operations.
The ideal formula for users who want to make the most of remote control of their Connected line.
The most complete package on the market for demanding professional users: fleet management and remote support.
Price / year
Free
€148 (BM BP) €98 (PM)
Software updates
Wi-Fi
Wi-Fi
Wi-Fi + 4G
History/Cycles
Wi-Fi
Wi-Fi + 4G
Wi-Fi + 4G
Alarm and notification management (updates, subscription renewals, etc.)
Update user settings: operating hours, cutting height, zone %, temperature
Status in real time + position on demand
Fleet management dashboard
Remote initialisation and restart
Interactive map of cycles by zone
Activation/de-activation of cutting heads + Remote installation of software
Geolocation /Anti-theft security feature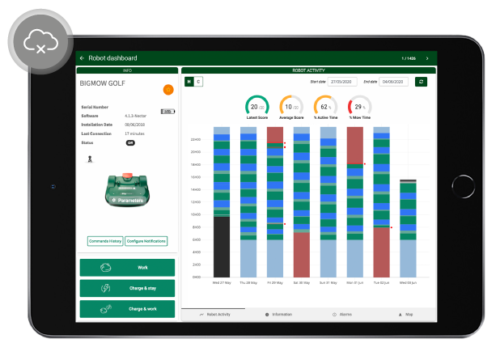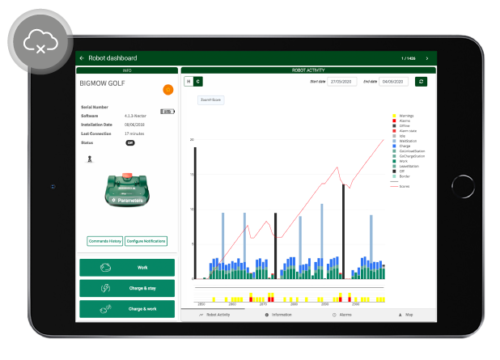 Offline offering
Offline features (without subscription)
The robotic mowers receive a software update via Wi-Fi during technical maintenance operations. Data concerning the performance and operation of the robotic mowers is recorded directly and stored for more than a year as operating cycles. It is available via Wi-Fi. You obtain the results in the form of intuitive graphs.
Would you prefer to have continual updates and to obtain data in real time via 4G? Take out one of our paid subscriptions to suit your user profile.
Basic offering
Status and position in real time
Your robot sends you its status in real time, as well as its battery status and the coordinates of its last connection. Need to know its latest position? Look at the interface to find out.
Custom alarms and notifications
The new software lets you define, for each robot, the types of notifications and alarms you want to receive via the channel of your choice. E-mail, notifications on mobile phone or dashboard: you control the technical, subscription renewal, software update, or service reminder messages.
History of servicing and replacement parts
Proper maintenance of robots ensures their durability and performance. Each Belrobotics robotic mower is therefore linked to a maintenance logbook. The portal records the service operations performed and any parts replaced (release in October 2020).
Basic dashboard
View, sort, group, etc. Everything is possible in a few clicks whilst looking through the dashboard in 'basic' mode. You keep an eye on your favourite robots and identify machines that are active and those that need your attention. You want an overview of the robots in alphabetical order, by serial number, by performance score or date of installation? Everything has been thought of.
Remote control
Thanks to a direct connection to the robotic mower, you can control it remotely via the portal or the app: mowing, charging, resuming work when charging is complete, or, for the Rangepicker and Ballpicker models, discharge the balls.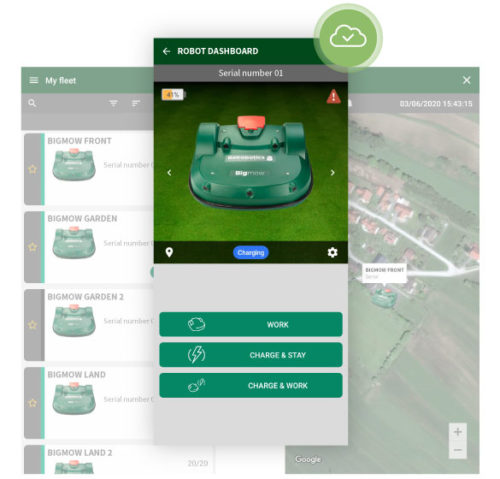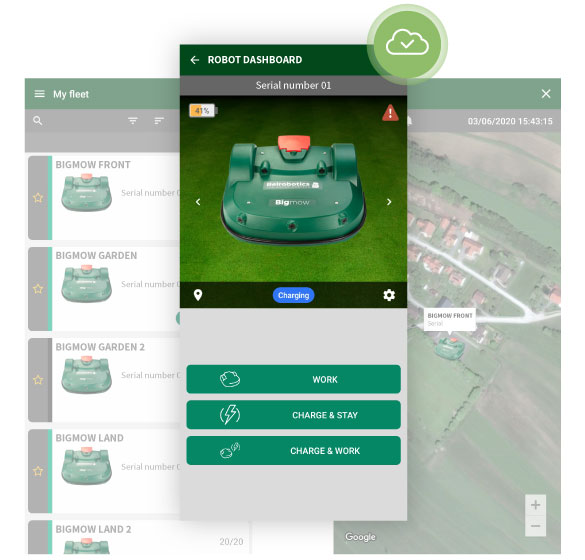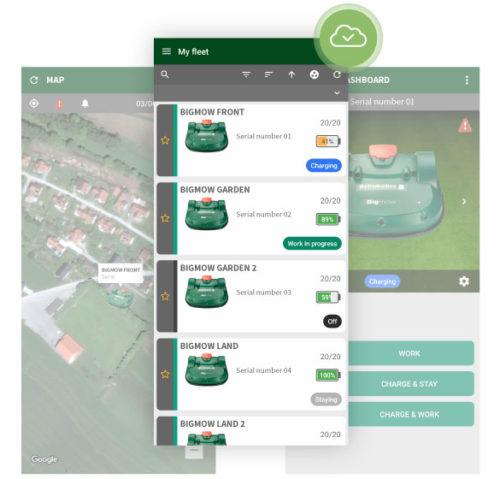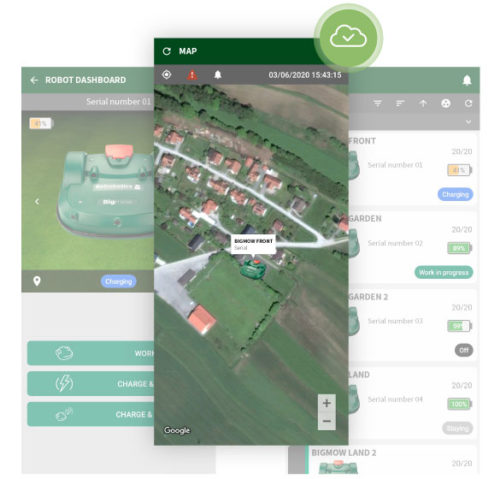 Premium Fleet Dashboard
This is the ideal dashboard for professionals who want to optimise the management of their fleet. In addition to the functions of 'Basic' Mode, you benefit from an instantaneous overview of all the robots of your entity. In just a few seconds, you geolocate your whole fleet on an interactive map and identify the performance level of the robots. You can also check which version of the software is installed on your machines.
Remote restart
With the Premium subscription, you can specify individual technicians. The technical has personal login identifiers and is able to remotely reset and restart a robotic mower that was in alarm mode. This function allows a risk-free restart after the cause of the stoppage has been identified (release in October 2020).