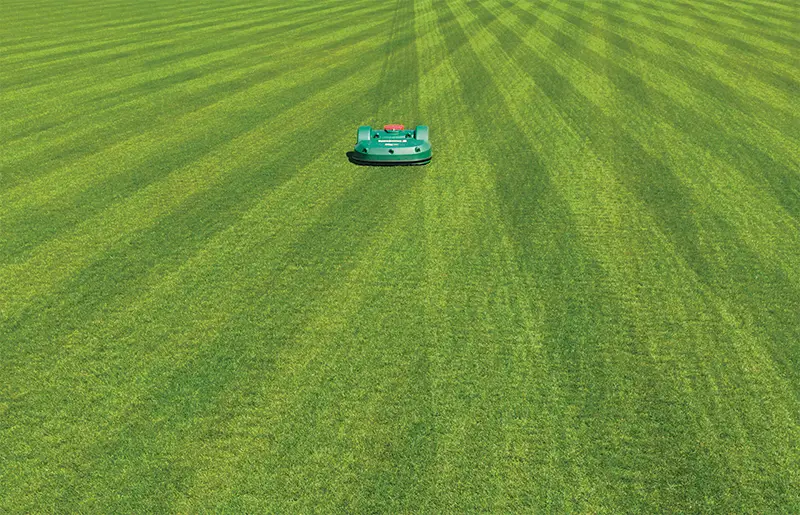 All-in-one solution
Choose WiseNav technology and benefit from a complete automatic mowing system for your fields. Five steps to perfect mowing without a boundary wire:
Robotic mower equipped with GPS-RTK technology
The GPS-RTK base that transmits position corrections
The robot charging station
(Virtual) demarcation of work and safety zones
Access to the web portal and the mobile app to control and monitor the robot
Simplified interface and installation
No more buried boundary wire or risks of interruption. Our experts scan and program the safety zones. You can use the app or portal at any time to define the work zones and no-go zones. Optimum flexibility.
Need to exclude complex obstacles or flooded areas? Want to determine the best mowing pattern according to the orientation of the property? Consider it done. The robot uses its GPS positions to record its work zones to within a centimetre.
For all types of terrain
Football pitches, industrial green spaces, golf courses, parks, gardens, etc. Belrobotics robotic mowers can work on one field, or several. Even on slopes of up to 45%. What's more, a single 4G multi-robot system can handle all of your fields within a 15-km perimeter. Just use the portal or the app. The robotic mower operates continuously and calculates the ideal trajectory itself.
Three times more capacity
GPS-RTK technology allows Belrobotics robots to mow in strips, significantly increasing their mowing capacity. Activate the WiseNav upgrade and boost the possibilities by an order of magnitude. Wire-free mowing has been tested on more than 600 robots and different types of terrain. Result: Mowing capacity of up to 75,000 m² (Bigmow GPS-RTK) and an unrivalled volume of golf balls (BallPicker GPS-RTK).
Eco-friendly and even more precise
A wire-free installation and mowing add up to a more environmentally-friendly system. There is no more need to dig up your green spaces; the mower robot will respect the safety zones right down to the centimetre. Belrobotics electric robots have no CO2 emissions. This benefits your image and your CSR policy. For an even more sustainable and attractive result, WiseNav technology lets you adjust the mowing height in each work zone and determine the transit zones between your fields.
Wireless Satellite Exact Navigation
Are you already using GPS-RTK robots and their GPS-RTK stations? The upgrade is free. Do you already own an old model from our Connected Line range? Purchase an upgrade for your station and enjoy three times the mowing capacity (GPS-RTK models) and simplified management of the mowing or exclusion zones.
Request a quote
Total control from your smartphone
Simplified interface

24/7 remote access

Creation and adaptation of GPS and exclusion zones

Adapt the mowing to the condition of your terrain

Exclude certain high-risk or flooded zones

Unrivalled flexibility for turf professionals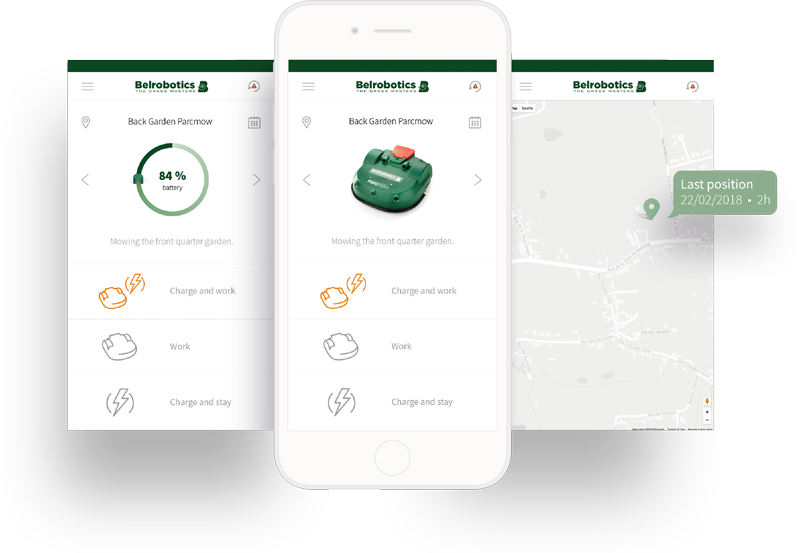 Innovation for GPS-RTK mowers and ball pickers
Mowing in perfect strips without a boundary wire

Optimised mowing of zone edges

Definition of excluded picking zones

Observance of defined safety zones

Can always be combined with a wired installation
Request a quote