A customised subscription formula
We offer 3 types of packages and prices depending on your needs and the type of robot you have.
Decide which formula suits you best by consulting the table or contact your dealer/supplier for more information.
Offline offering
Basic offering
Premium RTK offering
Features
Offline
Basic
Premium RTK
Description
We guarantee software updates during technical maintenance operations.
The most complete package on the market for users who want to make the most of remote control of their Connected line.
The package for GPS-RTK robots users who want to control their operations with their fingertips.
2 years free included at installation
2 months free included at installation
Free
49 €
(Parcmow BM-1000)
59 €
(Bigmow BM-2000 and Ballpicker BP-1200)
149 €
(BM-1050)
199 €
(BM-2050 and BP-1250)
Performance monitoring (history&cycles)
Wi-Fi
Robot Remote Configuration (Parameters Read/Write)
-
Alarm and notification management (updates, subscription renewals, etc.)
-
Status in real time + position on demand
-
Interactive map : trajectory follow-up by cycles
-
Fleet management dashboard
-
GPS Pattern mowing configuration and parameters
-
-
GPS Based Parcels Remote Configuration
-
-
GPS Based no go-zone for obstacles
-
-
Additional cost for 4G communications
4G RTK Yearly Fee BM-1050 / BM-2050
-
-
99 €
4G RTK annual fee BP-1250 / Base GPS RTK
-
-
149 €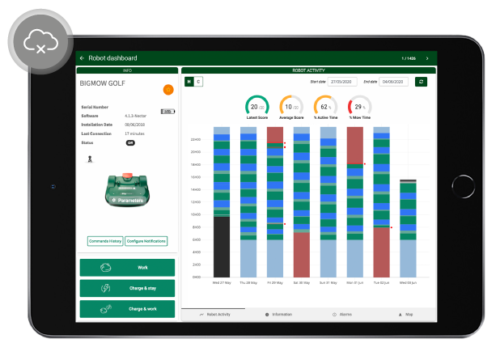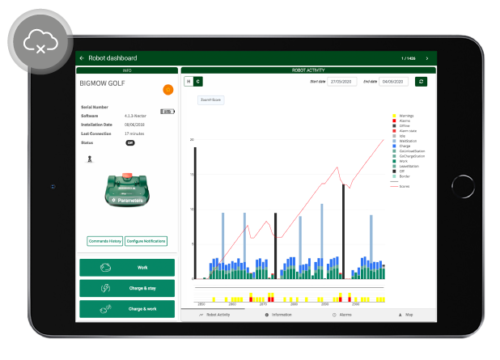 Offline Offer
Offline features (without subscription)
Robotic mowers and ball collectors can operate with full performance and navigation capabilities. Remote monitoring and control is limited.
Robotic mowers and ball collectors receive a software update via Wi-Fi during technical maintenance.
Data on the performance and operation of the robots is recorded directly and stored for over a year in the form of operating cycles. You get the results in the form of intuitive graphs. The data is only available when the robot is connected to Wi-Fi.
Would you prefer to have regular and continuous software updates and be able to control and monitor the robot in real time via the mobile network (2G/3G/4G)? Subscribe to one of our paid subscriptions adapted to your user profile.
Basic & Premium RTK subscription
Real-time performance monitoring (history and cycles)
Follow the activity of your robot on a daily basis. The information, available via the web portal or the app, is presented in clear and precise graphs. The interface allows you to identify alarms and sort on them to identify the areas where they occur.
This feature allows you to send a series of commands directly to your robot via the portal or app. These specific instructions such as "load, work..." ensure optimal management of all situations, including unexpected events. A history of these commands is also available. You can thus optimise the use of your robot and ensure better management of your lawn mowing in all circumstances.
Remote robot configuration (read and write parameters)
This option allows you to manage various parameters of your robot such as:
The robot's work schedule
The cutting height
The deactivation of a possible defective cutting head to guarantee the continuity of your machine's activity until the part is replaced by a technician.
The definition of the percentage of activity in the different work areas. As grass does not grow uniformly across a field, this allows you to define the percentage of activity time allocated to a specific area according to the speed of growth or density of the grass to be cut.
For ball collectors, it allows you to manage the robot's work zone according to the density of golf balls on the field. The definition of the working areas is done via the prior installation of wires or via the GPS configuration which can be done through the management of the parameters.
Taking into account the outside temperature. It is not recommended to operate a robot when it is too cold and even less so when it is freezing (risk of destruction of frozen grass under the effect of the wheels).
Alarm and notification management
By activating the notification, you are directly notified when an alarm is reported. You can choose the channel through which you are notified: notification via the app on your smartphone, e-mail or notification centre (app and portal).
You can activate this feature per robot if you have several in your fleet. A complete history of the different types of alarms is available to help you plan an adapted intervention.
Real time status + position on demand
Your robot sends you its status (working, charging, waiting, ...) in real time, as well as its battery status and the coordinates of its last connection. Do you need to know its last position? Look at the interface to find out.
Interactive map: tracking the trajectory by cycles
This function allows you to visualise on a map the path of the robot by cycle and by zone. The map also shows any alarms that have been triggered.
Fleet dashboard
View, sort, group, etc. It's all possible with a few clicks of the mouse by consulting the fleet dashboard. You keep an eye on your favorite robots and by looking at the overall fleet dashboard, you can easily identify which machines are active and which ones need your attention. Do you want an overview of the robots in alphabetical order, by serial number, by performance score or by installation date? We've got it all covered.
Remote robot configuration (read and write parameters)
Proper maintenance of the robots guarantees their durability and performance. Each Belrobotics/Echorobotics robot is therefore linked to a maintenance logbook. The technician/dealer can record all the service operations carried out and the parts replaced in the portal's maintenance booklet.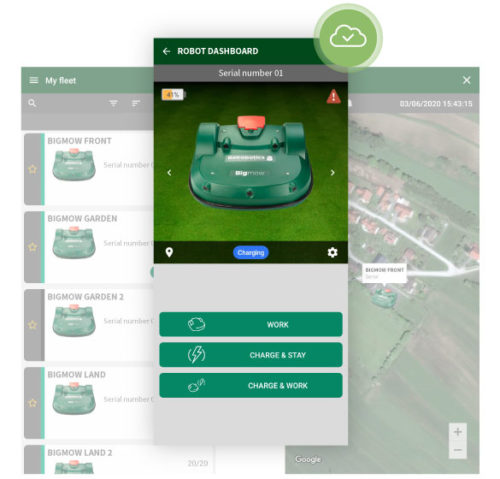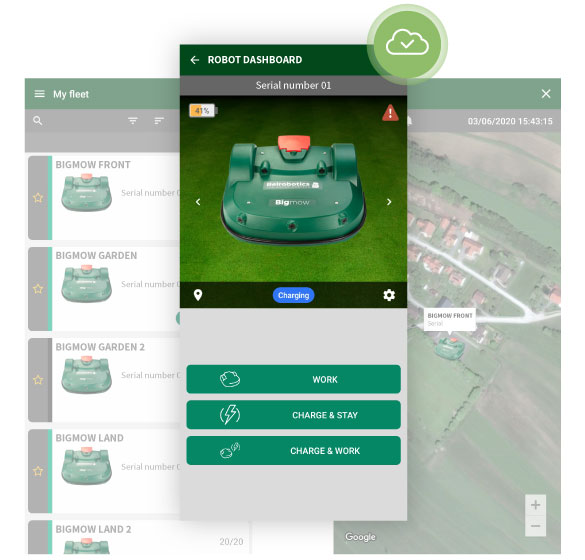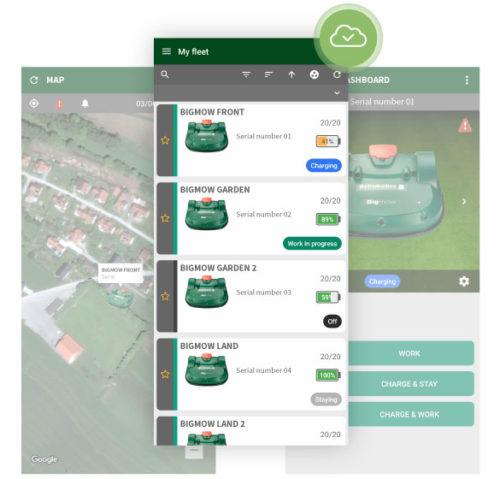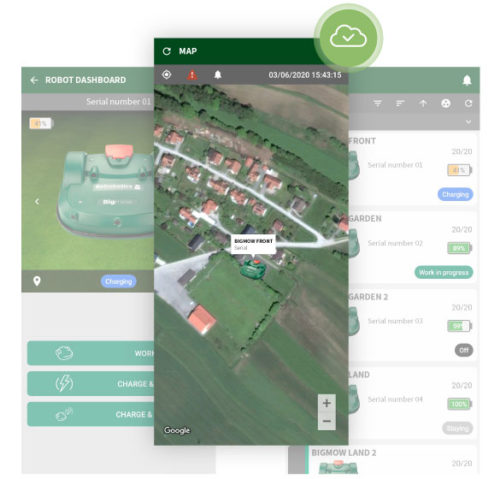 GPS-RTK increases performance
Robots equipped with a GPS-RTK module do not operate in "random path mode" but can follow "line patterns" with a very high accuracy (<5cm) provided by GPS RTK technology. This significantly increases the performance of the robots and results in a much more aesthetically pleasing mowing.
The "Premium RTK" package
The "Premium RTK" package offers you all the advantages of the "Basic" package for optimal remote control and configuration of the robots and also provides additional features related to the remote configuration of the GPS-RTK robots.
RTK parameters, RTK zones, "No-Go" zones
RTK parameters, RTK zones, "No-Go" zones: all can be defined remotely from the portal or the application and allow to optimize the performance of the GPS-RTK robot without installing additional peripheral wires and to adapt these zones dynamically according to the needs.