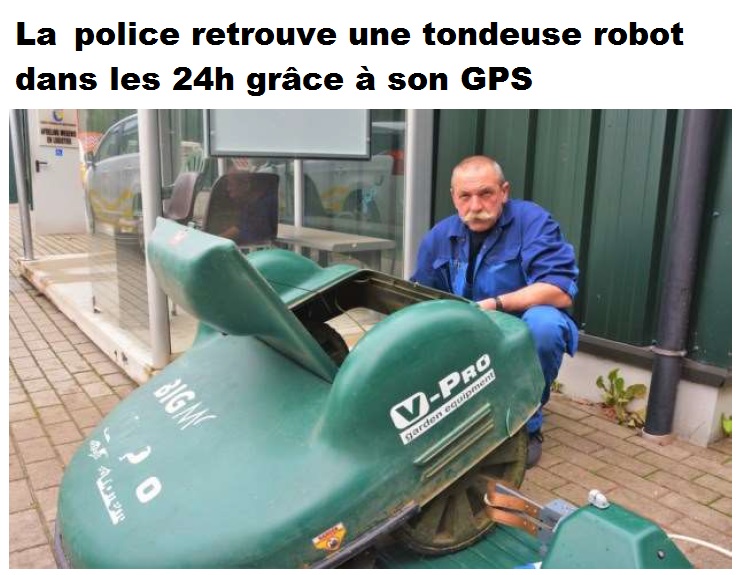 Locating the robot precisely
The latest generations of robotic mowers are equipped with a GPS system so that the robot can be located in real time. An SMS alert notifies the owner and the Belrobotics control centre as soon as an abnormal movement occurs. The Track & Trace system also informs us of the slightest operating error.
Very few robotic mower thefts
Why are robotic mower thefts not more frequent? Even if it is easy to gain access to a property to steal a robotic mower, the theft will serve no purpose. The robot cannot function alone, and an expert technician is required to install the station and make it operational. This would also apply to any other property for which it is intended.
Deliberate vandalism or accidental damage
Accidental damage is the most common case. It generally occurs on public property. Negligent behaviour by visitors, such as leaving drink cans or clothing lying on the ground, causes minor damage. Intentional damage is rare. However, if a robot is attacked—subjected to a person's weight, overturned, or having objects thrown at it—the security system immediately detects this and notifies the person in charge.
What solutions are available in case of such incidents?
Home insurance usually covers robots for theft or damage. It is important to find out what type of policy you have, and the maximum amount of cover your insurer provides.
If the cover is insufficient, a private customer may ask the insurer for a 'Garden Package'. This will cover the robot as well as any outdoor furniture. A professional customer may contact an insurance broker for equipment Theft & Damage insurance that covers robots.
Belrobotics robotic mowers are equipped with an extremely robust aluminium chassis that is separate from its hood, unlike other brands, which have a monobloc structure.
Each part can be replaced individually, so the mower can almost always be repaired.
For more information on this subject, contact the Belrobotics team. We are at your service!