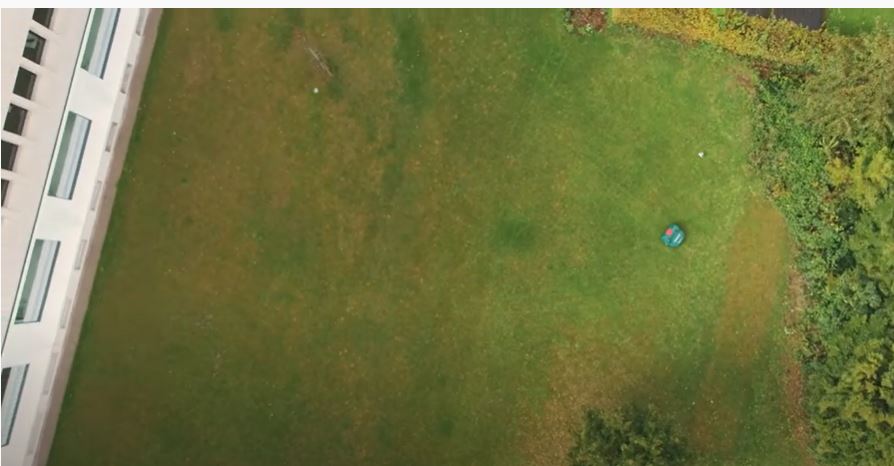 For many businesses, whatever their size, the management of the green spaces that surround their buildings may be important. These spaces must be regularly maintained, whether it is a case of image or for logistics and practical considerations. So, more and more businesses are coming to use professional robot mowers for easy mowing of their grounds.
Is this craze really justified and are the advantages of robot mowers sufficient to justify buying one?
At Belrobotics we obviously have a clear idea on the question. However, we wanted to talk with Etienne Rion, Head of Business Operations at Roche, a company that has been using our robot mowers for many years, to find out what he thinks about them and the advantages that they offer for businesses.
A robot mower does not demand much attention
To Mr Rion one of the big advantages of a robot mower is that it does not demand much attention and maintenance. Once the mower and its line are installed it works on the lawn in total autonomy and returns when necessary, or according to your choices, on the basis of load.
Certain marks also offer applications that allow you to follow – on smartphone, tablet or computer – the GPS position of your robot to make certain that it is doing its work properly, but also to reassure yourself of the fact that it is always at the right place and has not been vandalised. Many of these applications can also warn you of the slightest suspect movement of the robot. On that point, however, you can rest assured that theft of robot mowers is extremely rare.
 A very practical multi-zone mow
Another point, the automatic mowers may manage several mowing zones. For Roche, given the arrangement of the grounds that surround their buildings, this is a real advantage. In fact, the zone to be mowed measures around 6 000 m² but is separated into 3 different zones: a main zone which is intersected with some trees, a secondary zone in front of the car park – this zone is quite narrow – and, finally, a smaller third zone. Once the zones are well marked and roped off the robot is capable of mowing the different parts of the grounds regularly. A good professional robot mower can also easily mow 10 000 m², or even more in case of very robust models.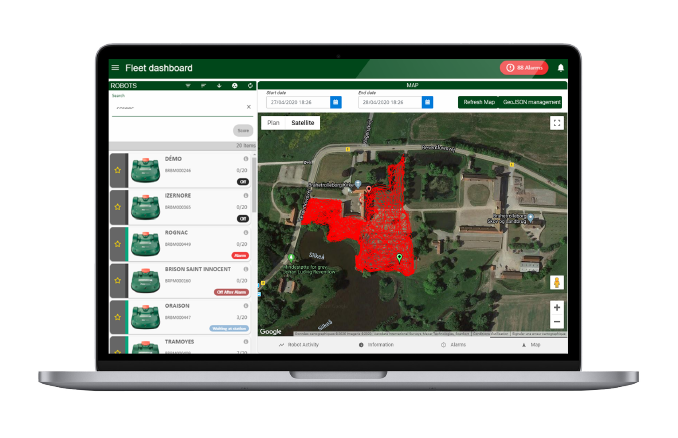 For businesses that own even more extensive grounds it is possible, according to the manufacturer, to use a fleet of robots working together for an impeccable result.
 Green grounds all year round
Unlike certain conventional mowers and tractors, the professional robot mowers offer a mulching cut: the grass is cut into tiny straws that fertilise the lawn while keeping the humidity. This makes the lawn more attractive, dense and resistant, even during hotter periods. A robot also helps to neutralise the negative effects of mulching: appearance of felt if done too spaced-out and faster growth of grass.
Robot mowers: a not inconsiderable ROI
The quality of cut and general appearance of its green spaces may well be important for a company, but so are the costs involved in maintaining that quality. On this point, Mr Rion explains that the robot mowers allow easy cost reduction and could even be reimbursed in only three years time. All this is made possible thanks to a relatively low electric power consumption, which is much cheaper than fuel, and its automation.
The ecological side of robots also convinced Roche. In a world that pays more and more attention to carbon emissions, robot mowers produce much less than mowers that run on fuel.
 A quiet mower for easy living
Finally, during the summertime, a lawn might soon require at least one cut per week. The demand increases and the companies that manage the maintenance of green spaces have to work during office hours. Now, the mowers and tractors generate noise pollution, and that can be annoying. At Roche some of the meeting rooms are situated directly on the ground floor, which inevitably results in increased noise levels that might sometimes be very disturbing during meetings. With the robot mower all is peace and calm. It can operate at any time without you hearing a thing.
Do not hesitate to consult our blog to discover more tips and hints about robots and lawns.
Transcription of the video:
Our grounds cover a surface of around 6 000 m², divided into 3 zones. Here you have the main zone, like a big rectangle on which there is a clump of trees cutting across this zone. (Add photo in the text with name = company grounds.jpg and as alt = the grounds cut by the robot mower). There is a zone behind that is secondary, situated in front of the car park. The particular feature of this zone is that it is relatively narrow. Finally, a third zone, where the Parcmow is situated at the moment.
This is an entirely automatic machine, so at the end of the day, it does not need much attention and only very little maintenance. When you look at the figures for return on investment you see that our investment in the machine was recovered in just three years. What is so special about these robot mowers, is that mulching makes it possible to enrich the soil in a natural way. We realised that using chemical fertilisers is no longer necessary, the lawn stays relatively green all season.
We attach great importance to the environment. A machine such as the automatic mower, the robot mower, may consume a little electricity, but it is very negligible compared to the CO2 emissions of a thermal machine. On the ground floor there are meeting rooms. The person who did the maintenance with his thermal mower used to spend long minutes, sometimes even hours, going up and down. This finally caused some considerable noise. Today, it is a problem we do not have any more. The application is used on smartphone only. It is indeed sometimes reassuring to check the location of the machine via the application. Thanks to the Maps geolocation application we can look up where the Parcmow is, this is particularly useful when you have not seen the machine a while. We then realise that it is simply busy cutting in the area with trees behind us. Here it works throughout the day, regardless of the weather conditions.