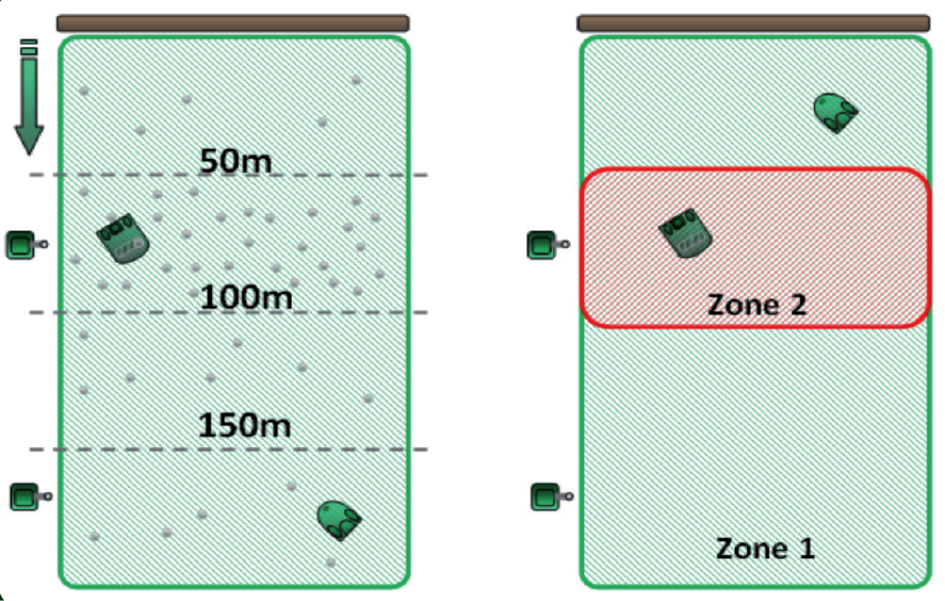 What is the multi-zone program?
Multi-zone is a robot mower function that allows a single robot to maintain a number of different zones. By "zones", we mean areas that are distinct because of either their shape or their function. An example might be one lawn to mow in front of the house and another behind, or two sports grounds side by side. A special multi-zone charging station is required, and a common zone, referred to as an "overlap zone", provides the link between the two spaces.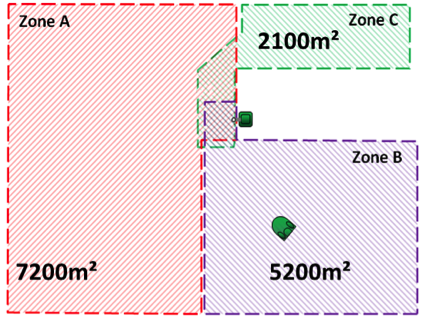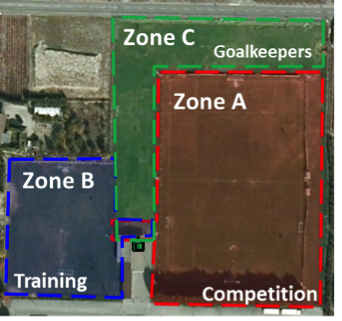 What are the advantages of zoned mowing?
Whether it's for private grounds, a football club, a golf course, or public green spaces, multi-zone improves overall mowing quality and offers greater flexibility for using the areas to be mown. In concrete terms, there are numerous advantages for sports grounds:
The robot can operate according to the usage programme. Take one ground that is mainly used at weekends for competitions and the other used for training: the multi-zone feature lets the robot concentrate on whichever pitch is unoccupied during a given period.. Your robot is working productively all the time, for maximum mowing efficiency. Returning to the charging station takes less time; this considerably optimises the working time.
For garden maintenance, multi-zone lets you program different mowing times for the various parts of the garden. As an example: no mowing close to the house at night and at weekends; or excluding one part of the garden during a specified period. Think of an orchard in autumn, for example.
The combination of robot mower and ballpicker effortlessly copes with the required scheduling uncertainties. They can work night and day. On a driving range, at peak times when players are training, the balls are concentrated in the middle of the driving range between 50 m and 150 m. The ballpicker robot will then be programmed to concentrate on the high-density zone, while the robot mower will continue to take care of the whole area.
A powerful algorithm for customised mowing logistics
The robot mower cycles are programmable. The algorithm allows intelligent configuration: a "ratio" is established for each zone according to its size and importance. This takes grass growth into account and will define the proportion of work the zone requires. Each ground has its own custom-configured robot mower to give it the best service.
Private or professional customers may contact the Belrobotics team for any further information.