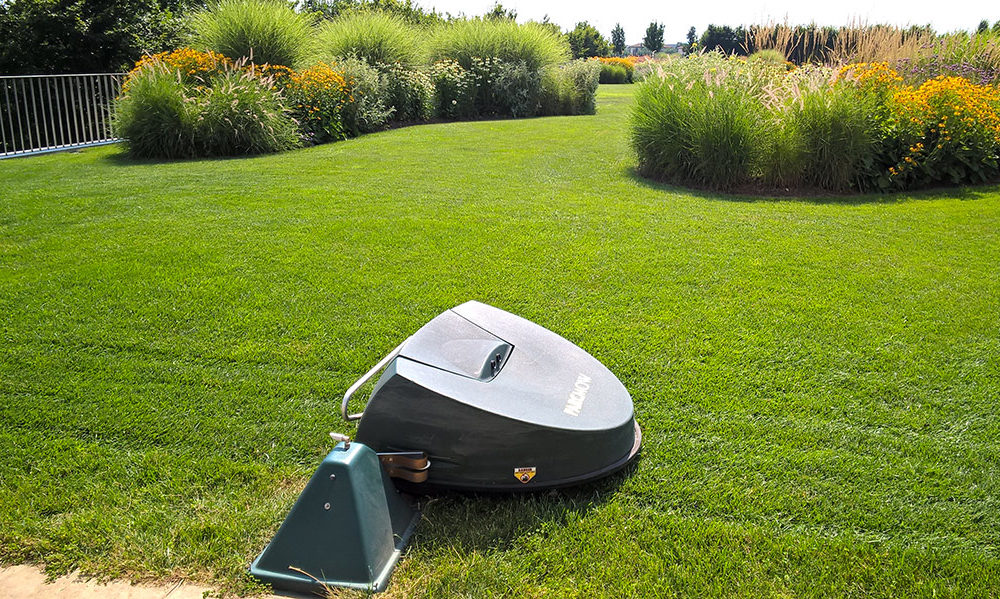 Are you thinking of choosing a robotic mower as your mowing solution? How do you choose a robotic mower without making a mistake? What do you need to watch out for? Pay attention to several criteria to really take advantage of the robot's features!
Terrain and obstacles
One factor that is too often neglected because it is an inconvenient truth for some dealers: the robot cannot cope with all types of terrain!
A special garden layout? Check the criteria to be fulfilled for a robotic mower to be able to do its job perfectly. And always use a robot with a multizone programme if the mowing surface is divided into several areas (for example, if the front and rear parts of the garden are connected by a path).
With regard to sloping terrain: robotic mowers can handle a maximum slope of 30%. Except for the Bigmow by Belrobotics which can climb 45% slopes.
Another common mistake is the failure to consider the specifics of the terrain when choosing a model. These details have a major effect on the efficiency of the robot.
The mowing surface area, but not only that…
Robotic mower models are generally categorised according to their mowing area capacity. Be careful, because choosing a model solely according to this rated capacity will often lead to a loss of economy. Why?
The maximum mowing capacity is calculated based on an obstacle-free surface
A poor choice will lead to the robot operating beyond its capacity: decrease in robot longevity and mowing quality!
Don't miss out on the benefits of the robot. An overloaded robot will very quickly turn out to be a useless purchase that will not last. In addition, models designed for large surfaces often have more advanced features:
Several floating cutting heads and multizone programming
Equipped with a charging station: the robot is then really autonomous
A shorter charging time
A sophisticated security and remote control system
Opt for professional installation of the robot
You will find a range of documents concerning the installation of a robotic mower, but nothing beats a professional installation. The comparison to other purchases requiring professional installation is easy. Always choose optimum installation and after-sales service. Many users end up disappointed after having a robot installed by a non-professional person.
Conclusion: don't do things by halves! Treat yourself to a quality robot that is 100% autonomous and truly silent. This doesn't just mean that you will no longer need human intervention to mow your grass, but that you will eliminate all of the unpleasant aspects of mowing. Do what you want, when you want. The robot works for you without bothering you.