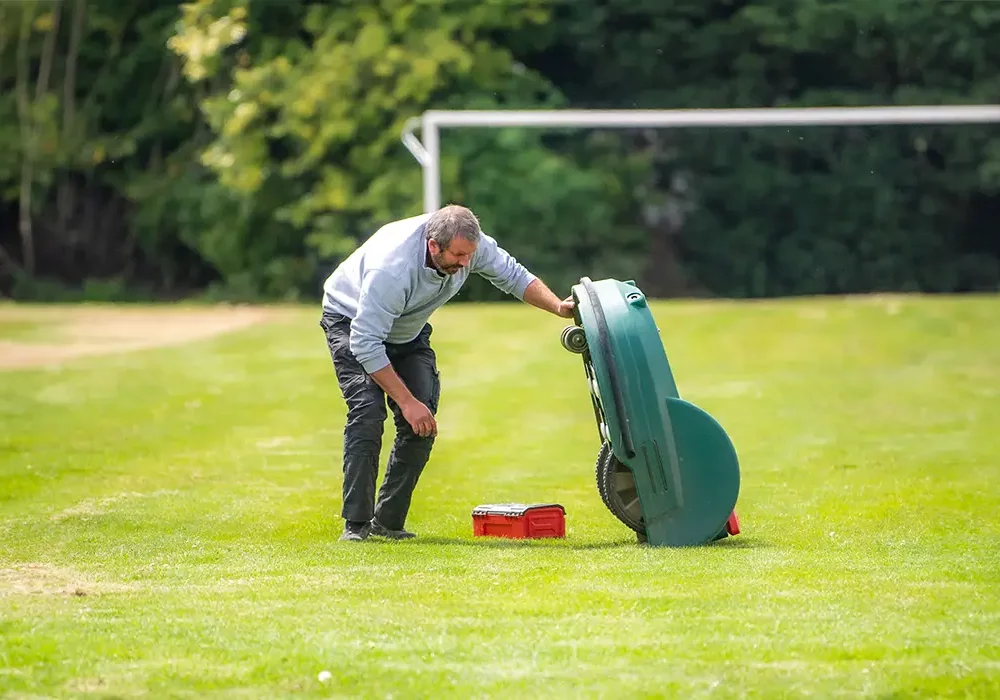 We are all aware of the importance of reducing waste. Many organisations and governments are striving to do that. France, for example, has developed the repairability index. It measures the durability of a certain number of objects around us. Belrobotics robots were tested recently, and achieved a nearly-perfect score: 9.8/10.
So, as you can see, our robot mowers are the most repairable on the market. The repairability index certifies how easily a user can obtain information and spare parts, and carry out repairs.
High repairability therefore helps reduce the amount of electronic waste. So you can help the environment whilst avoiding unnecessary costs.
What is the repairability index?
In France, the repairability index is a tool to promote the circular economy and to better inform buyers. It is part of the anti-waste law. Since its deployment in January 2021, this index has applied to household appliances and electronic devices in various categories. This includes electric lawnmowers and robot mowers.
The rating is on a scale of 1 to 10. The higher the score, the easier it is to repair the product. The list of criteria considered is as follows:
accessibility of the documentation to repairers and consumers
ease of disassembly of the product and availability of the necessary tools
availability of spare parts
price of spare parts compared to the price of the product
Then there are specific criteria according to the category. For robot mowers, the following points are considered:
possibility of using a multi-product battery
possibility of reinitialising the internal software to apply a factory reset
free remote assistance to facilitate troubleshooting

assistance in the form of a website and a FAQ, a phone call, a chat or an application. The final objective: to detect the origin of the breakdown and to repair it.
Why are Belrobotics products rated 9.8/10?
Belrobotics is obviously proud of this nearly-perfect score. We work hard on the repairability aspect. In fact, that goal has always been part of our core strategy.
Belrobotics professional robot mowers are designed for maximum durability. It is an important condition in order to fulfil their mission: mowing large areas to perfection. What's our secret recipe?
High-quality components
Cutting-edge technology
Unrivalled know-how and experience
No compromise on our after-sales service
When you choose Belrobotics, you are choosing reliability. You can count on our efficient after-sales service and our cutting-edge robot mower app. We take care of our distribution network. Our dealers have the same level of expertise. Information, installation, and maintenance. Let the testimonials in our videos inspire you.
As professionals, you count on optimum mowing quality at all times. In case of a breakdown, the aim is to limit the downtime of a mower. That is why Belrobotics innovates every day to ensure a top-notch repairability rating.
How can you make the most of this repairability score?
Maintaining your robots regularly and properly must be your priority. Our robots are made of robust materials, and they require annual servicing y a professional. An opportunity to update the software in your robot mower, to take 100% advantage of all of its features.
Tips for protecting your equipment:
Schedule its annual maintenance

Replace your mower blades every 2 to 3 months
Clean the wheels and cutting heads regularly. Clean them every three days in damp weather and from time to time in dry weather.
Check the charging contacts of the robot and station regularly.
Tips for your property:
If your property is littered with branches or other detritus, the blades of your robot mower could become prematurely damaged. You should therefore make sure to remove them. The same applies to any holes in your lawn. We advise you to fill them in, or program them as no-go areas. Your mower could become stuck there. Last but not least, store your robot in a location where it is protected from freezing and humidity.
Any questions about our products or their durability? Contact us or read our blog posts about professional robot mowers. There you will find testimonials and case studies from the worlds of golf, football, and green space management.