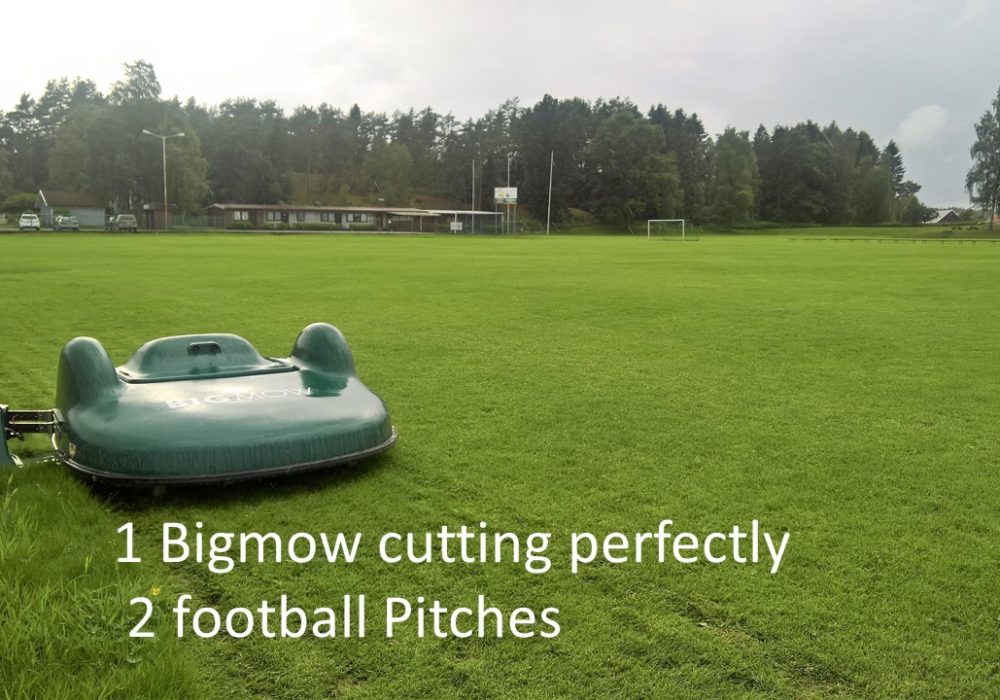 Choosing a mowing facility for maintaining large areas (football pitches, sports grounds, golf courses, public parks and gardens, or private grounds) demands careful thought. Choose several robot mowers or a single robot? Four reasons why you should invest in a professional robot mower.
1. Reduced installation cost
A single robot requires only one docking station, one electricity supply, and a single perimeter wire, instead of two or three for several robots.  Several perimeter wires increases the risk of interference. A single robot mower offers you undisturbed mowing, simplified installation, and reduced set-up costs. The expenses associated with the electrical supply are considerably lower for one robot mower than for a fleet of robots.
2. No wires crossing the area
When several little robots are installed, the wires cross the area. On sports grounds, these wires are irreparably cut during major maintenance (aeration, scarification, etc.). With a single professional robot, the wire runs only round the perimeter, and hence will remain undamaged during major maintenance.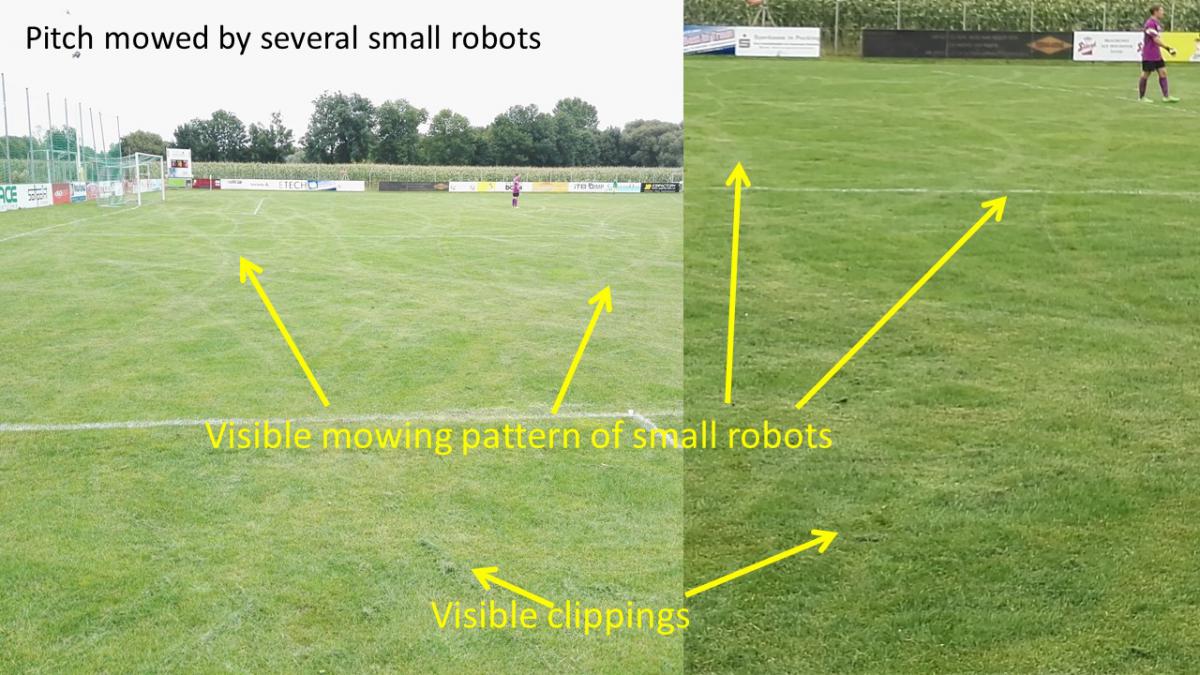 3. Reduced repair and maintenance costs
The more robots there are, the greater the likelihood of running into complications. Even if it's under guarantee, having a robot mower in for repair disrupts the whole mowing schedule. Not counting the time and energy lost contacting after-sales service departments. What's more, the overall maintenance costs are lower for a single robot than for a fleet of machines, and the life of a professional robot mower cannot be compared to that of smaller robots. Battery life and power are greater for professional models.
In terms of robot wear, note that the area the device can cover is not its real intensive capacity. So don't choose a robot with a maximum capacity of the area to be mowed – allow a 20% margin of extra capacity. Buying models that are going to be overstretched or choosing models that won't have the capacity to ensure an impeccable cut all year round is not a good calculation.
4. A professional cut, reduced grounds maintenance costs
Grass cut by a professional robot guarantees reduced maintenance costs: the clippings are smaller, providing more nutrients to the soil and thereby constantly improving grass health. What's more, a pro robot mower is more robust. It lets you cut all kinds and heights of grass and clear even quite large obstacles. Thereby reducing possible system blockages, which waste power.
Cut precision and quality mulching
Cutting capacity in higher grass
Clears obstacles unaided
Robot mower life
5. An even cut for an impeccable grass surface
Using several robots, the cut height must be exactly the same. If this is not the case, even with a difference of only a few mm, the robot mower with the lowest cut height will be the only one working a great deal. As a result, the cut lines made by little robots will be much more pronounced.
By way of an illustration, note the photos of grounds maintained using several little robot mowers and the one of an area mowed by a single robot. The quality is noticeably higher in the second.
And lastly, choosing a professional robot mower instead of several little robots is also an environmentally-friendly gesture. Less pollution and a single battery and shell to be recycled.
Discover the Belrobotics range of robot mowers for maintaining football pitches, public or parks and gardens or company grounds, golf links or private gardens.