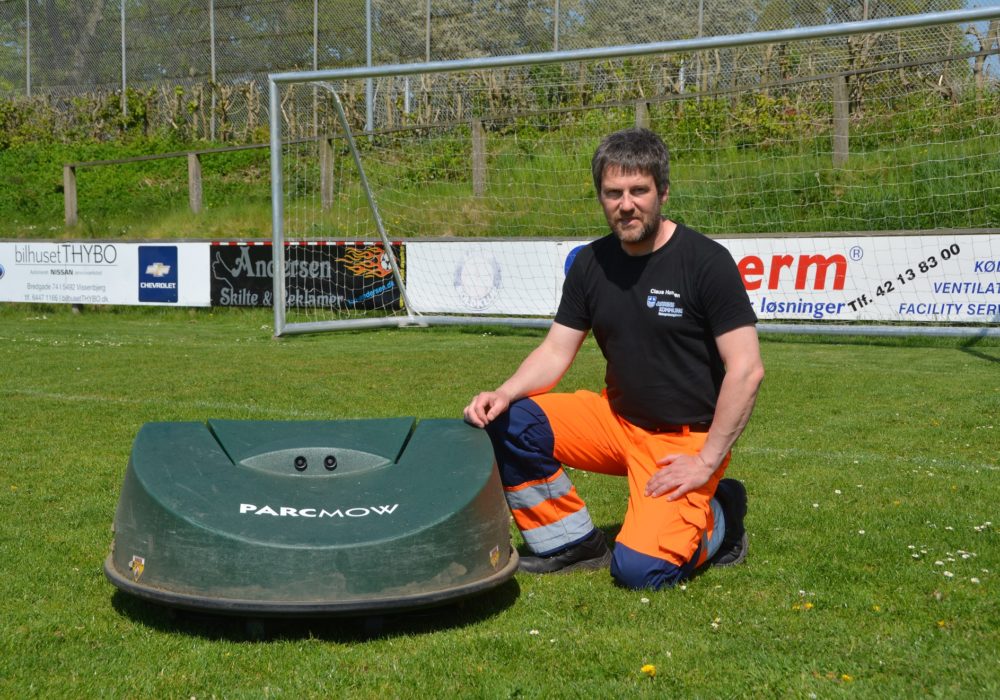 A town pioneering the use of robot mowers
Assens is one of the 98 municipalities that make up Denmark. Located on the west coast of the island of Fyn, it had over 40,000 residents in 2012. It was also one of the first municipalities to invest in a robot mower to take care of the sports fields in its various villages.
It all started with a Parcmow, which was installed at Aarup in 2015 by our local distributor: PN-Maskiner A/S. This experiment proved highly successful, even if a few adaptations had to be made, as in Assens, stone pavers had been used in the corners of the fields. This is not compatible with a robot mower, but when all those regularly using the pitch realised that the grass was being cut much better than with a conventional mower, nobody wanted to turn back!
A constantly growing fleet of professional robots
In 2016, four more robot mowers were added to the Assens fleet, but they didn't stop there and, in the summer of 2017, five more were purchased, bringing the fleet of Parcmows up to 10!
A groundswoman won over by Belrobotics
In addition to a better quality of cut, the municipality's sports groundswoman, Elisabeth Bonde, has also noticed that using the Parcmow has generated significant savings for her employer.
In her view, the Belrobotics robots do a good job and function perfectly. The only hiccups have been caused by human error, such as sports accessories being left on the pitch after various activities. And in order to ensure that the automatic mowers continue to work like a dream, the municipality has even purchased small air compressors which have been installed close to each robot's charging station and allow them to be cleaned at least once a week.
With this whole installation, Assens is saving a significant sum while at the same time enhancing the quality of its sports fields and the general environment. Elisabeth Bonde has also recommended "the robot adventure" to several other municipalities! If you'd like to join them or first want to receive more information, then don't hesitate to contact our team!