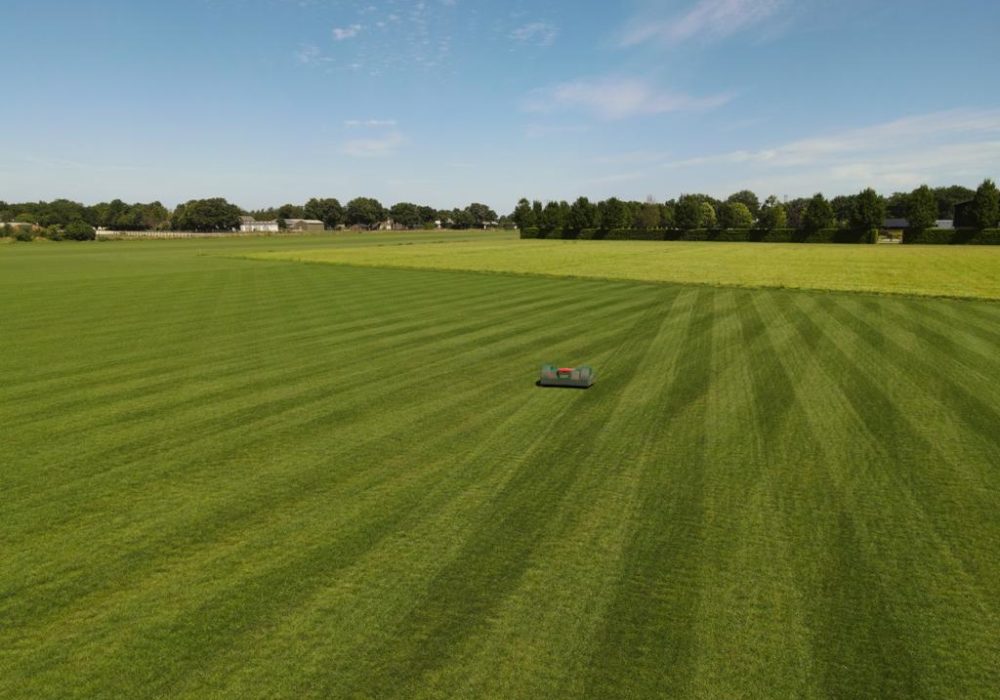 Belrobotics, the pioneer Walloon-Brabant company, leader in the field of professional robot lawn mowers has recently updated the software of its GPS RTK robot mowers. Far from being just another update, this latter, designated WiseNav for Wireless satellite Exact Navigation, opens up revolutionary new possibilities.

A simple update, a real revolution
"Simplicity is supreme sophistication." This quote from an inspired inventor illustrates just what is at the heart of Update 4.6. We know that turf professionals, whether greenkeepers, football or sports field managers, a municipality or a company, all look to better management and maintenance of their grounds. So, the tools they use must save them time and make life easier. This is precisely what we aimed to develop in our latest update.
Our RTK robot mowers and our golf ball pickers are now able to:
Mow in strips without peripheral wire
Avoid and mow specific user-defined areas
Respect safety zones defined by a technician
Cut the edges of mowing areas better
A perfect mow, without peripheral wire
The arrival of GPS RTK technology means that our robots are now able to mow in strips and, thus, increase their mowing capacity impressively. However, the WiseNav update really enhances their possibilities. Because our robots can now do all this without any peripheral wires. If you are still a bit sceptic, we can assure you that this update has already been tested with more than 600 robots and on the most varied types of ground possible. All this without compromising cutting capacity (up to 75 000 m² for a Bigmow GPS RTK) or quality, which are still as excellent as ever, thanks to the robots' floating heads and their blades.
Installation now much simpler, less expensive
The installation of a robot on a new course is now much simpler with these novelties, since you no longer have to lay an underground peripheral wire delimiting the cutting zones. It is also a plus for customers who want to test a robot for short periods: the cost of a test is reduced, and you do not have to install a wire and dig up your grounds for a simple trial. Want to try it? Contact us for a quote! Or, if you prefer, you can also get feedback from a golf course or from the Belgian football centre.
A

n application to make life easier

Besides the installation of the robot, its day-to-day use in the application has also been improved and simplified. You can still access a whole range of data and settings, but you can now also create, copy and delete GPS areas to mow, as well as exclusion zones. The one area that can be edited only by our technician is the security zone.

Once an area is set, the robot does its job alone. It calculates the new area independently and defines a path to the area, respecting any prohibited areas in its path. It then manages the mowing of the plot itself, respecting the limits and height settings, etc. You can follow its work through the app, in all peace of mind, knowing that it will continue to follow all the planned guidelines and notify you of any incident.

The advantage of this new possibility is that you can actually adapt the mowing to changes on your grounds. Is an area flooded? You can carrying on mowing without problems by simply excluding that place. You definitely need maximum flexibility, and that is what this update offers you.
A free update and possibilities of update
If you already own an RTK robot and an RTK station, the update is obviously free. But, if you have an older robot model, such as the Connected line, that mows randomly, you must upgrade your station, which means additional cost. However, this cost also brings some significant advantages, such as up to three times more mowing capacity for GPS RTK models and being able to manage mowing and exclusion areas in the application.
Do not hesitate to contact us if you need more information or want to test one of our models. If you are interested, you can also check them out in action on our YouTube channel.