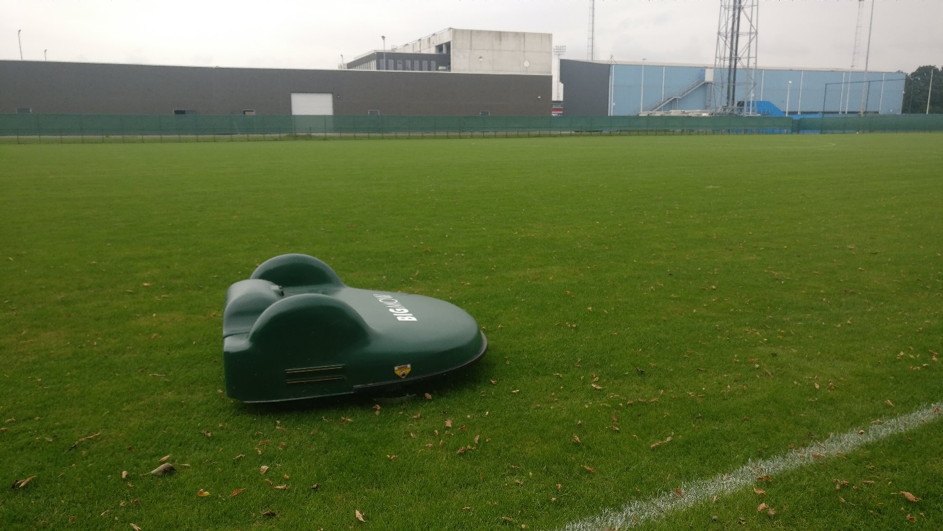 Since we are always eager to give our clients 100% satisfaction, we asked them some precise questions to sound out their opinion on our new range of 100% connected robots. Here, in the form of an interview, is a summary of their answers that is sure to interest anyone with any questions about these connected lawnmowers!
Can you tell us in a few short lines the situation of your municipality as regards the sports grounds to be maintained?
The two grounds managed by the Belrobotics mowers are situated in the municipal sports zone of Beveren. Maintenance of this zone is normally entrusted to Beveren's green teams. This is quite a responsibility, since these grounds are used for the training of the top football club of Waasland Beveren.
When did you decide to switch to robot mowers?
The sports club has always needed a perfectly trimmed pitch and, unfortunately, we don't have enough staff for that. The robot mowers help us to solve the problem.
So the whole team were unanimous?
Yes.
What are the main factors that motivated the choice of a robot mower?
The fact of not needing additional staff is a decisive point. The connected aspect that allows us to know where the mower is at any given moment and being informed directly if there happens to be the least problem also swung the decision.
Do you often use the application on web browser? Or on mobile?
We use the application a lot, but also the browser version.
And what do you think of it?
It does the job really well: we're alerted straight away if anything is wrong.
Do you think the application misses any aspects?
No.
Did anyone explain in detail how you should use it?
Yes indeed.
Is it sufficiently easy to use for the different ground keepers?
Yes.
Since you started using them, what do you think of our connected mowers?
They do their work quite well. However, if we had to make a comment: during the most fertile period the grass sometimes grows fast and, since the mower cuts at random, it sometimes leaves some small patches less neatly trimmed.
If, like Beveren, you are interested by robot lawnmowers and the possibility of freeing up time for your green teams, do not hesitate to contact us or ask us for a free price offer for a robot lawnmower !