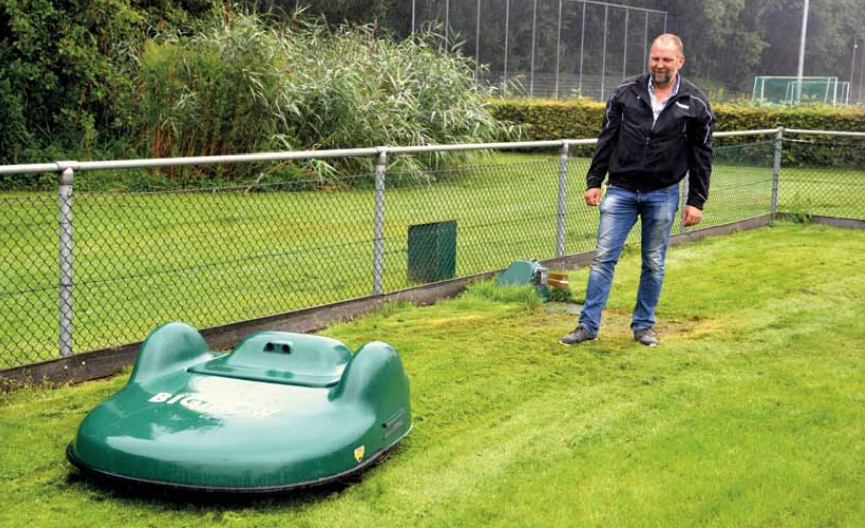 1

A not-insignificant saving in time

To Harry Kort, a robot mower offers a substantial time saving compared to traditional mowing methods: "You can mow when you want to. You can mow night and day, but also between training sessions and competitions. What's more, thanks to the machine's low weight, it's even possible to mow when it's raining." For a sports organization with over 9,000 members, a great many of whom use the pitches, that's a definite advantage! Eize Linstra explains that some time ago he had to cope with a lack of know-how and shortage of volunteers to manage his club's grounds. The arrival of two Belrobotics mowers was: "a great relief for the volunteers, who now only have to take care of major damage to the pitches."
2

Economical mowers

For many organizations, the budget plays an important part when choosing mowing equipment. Nevertheless, the purchase of an automatic mower soon pays for itself. The former Chairman of the Board of V.v. ODV is convinced of this: "Thanks to the robot mowers, we've saved a great deal of money. They mow more cheaply than the Town Council. In addition, there has been an additional advantage that we hadn't foreseen. The robot mower has enabled us to renovate one of our pitches. Thanks to its low weight, it has given a new lease of life to one pitch that had become compacted and damp through having been mown using the Council's machines. So we saved the cost of a renovation!"
3

A better quality sports pitch

The savings are not the only advantage of this type of mower, and our two professionals are also delighted with the work of their robot mowers. First of all, the light weight of the machines prevents the soil becoming compacted. Eize Linstra claims this allows better soil oxygenation and hence better grass quality. What's more, he explains that mulching the grass not only nourishes the pitch, but also avoids getting grass stains on the players' footwear.
4

An environmentally-friendly, durable mower

To Harry Kort, whose sports centre is part of the Utrecht Science Park, this sort of robot needs to be durable and environmentally-friendly. This is certainly the case with Belrobotics robot mowers, which he finds "environmentally-friendly and durable, as they don't make any noise and you don't have to put petrol in them." Delighted with this aspect, he feels it could even be improved, for example, by using solar power.
5

Maintenance and supervision

Even though automatic mowers make it possible to save time and offer a quality cut, like all machines, they do need a minimum of maintenance. For example, the blades have to be cleaned to remove grass clippings that adhere there because of rain or morning dew. Personally, Kort cleans his robot mowers using a compressor. This maintenance takes him around a quarter of an hour per machine. For further information on the subject, consult the article on maintaining and servicing Belrobotics robot mowers.

According to the Sports Facilities Manager, you also need to pay attention to certain parameters like the height of the grass which, if it is too long, shortly after it is cut "creates matting on the pitch and stifles it", or dampness, as  "this can cause mould to form." In all, as he explains very well himself: "The grass doesn't become any less vulnerable – you must continue to keep a close eye on it." Our users will appreciate this advice!

Do you have to manage sports grounds like our two professionals? Check out all the information on maintaining sports pitches on the blog and don't hesitate to contact our teams for more details of our robot mower product range and a free quote for your club.