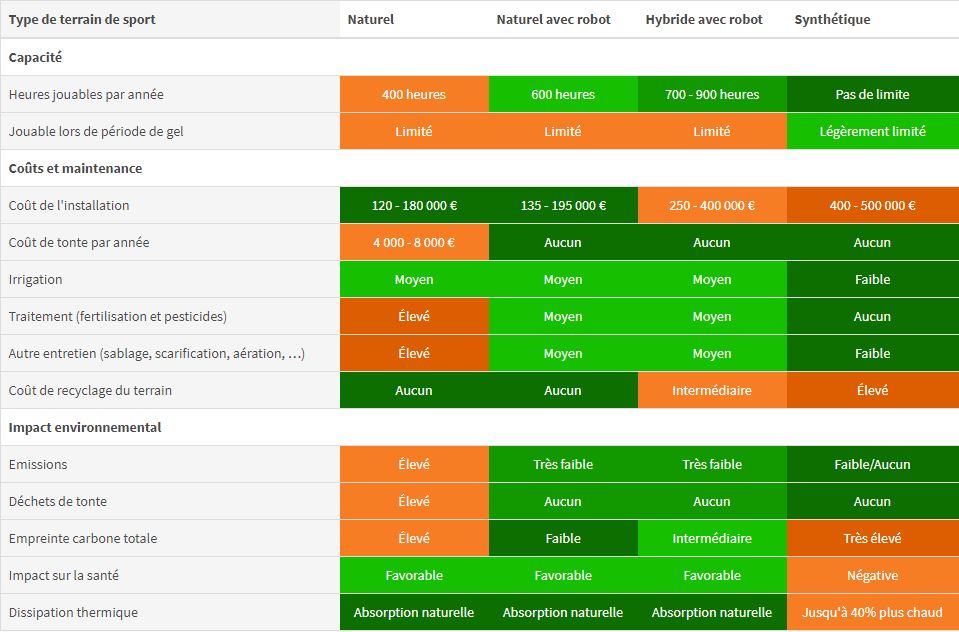 The cost of a synthetic pitch: a cost-effective investment?
The financial argument has often been put forward: "Thanks to the subsidies granted, the playing hours available, and the virtually zero maintenance costs, a synthetic pitch is the most cost-effective solution." However, this statement is not accurate. The costs of installing (€400–500,000) and recycling the pitch are high, and the argument about unlimited hours needs to be qualified.
In point of fact, do all clubs really make use of the additional hours made possible by the synthetic? And what additional costs are incurred by using a pitch at night?
Is a natural pitch a durable choice?
A natural pitch is the longest-lasting choice, provided it is well maintained. In point of fact, the quality of the pitch maintenance is what will determine the durability of a natural pitch and the cost of maintaining it. The enormous advantage in maintaining natural pitches using robot mowers is the efficiency and quality of the cut, and all at a competitive cost. Moreover, opting for a natural pitch with robot mowing is an environmentally-friendly choice.
The environmental impact of synthetic pitches is colossal: synthetic fibres from the petrochemical industry, very negative carbon footprint for construction, and high recycling cost for synthetic pitches after 10 years' use. Furthermore, a number of studies show that the risk of injury is greater on a synthetic pitch. Finally, the scientific studies contradict each other, but it is not proven that the "rubber infill" used on synthetic pitches, made from car tyre residues, is not carcinogenic.
Type of pitch
Natural
Natural using robot
Hybrid using robot
Synthetic
Capacity
Playable hours per year
400 hours
600 hours
700 – 900 hours
Unlimited
Usable during periods of frost
Limited
Limited
Limited
Slightly limited
Costs and maintenance
Installation
€ 120 – 180 000
€ 135 – 195 000
€ 250 – 400 000
€ 400 – 500 000
Annual cost of mowing
€ 4 000 – 8 000
None
None
None
Irrigation
Medium
Medium
Medium
Low
Treatment (fertilizer & pesticides)
High
Medium
Medium
None
Other maintenance (sanding, scarification, aeration, etc.)
High
Medium
Medium
Low
Cost of recycling pitch
None
None
Intermediate
High
Environmental impact
Emissions
High
Very low
Very low
Faible/None
Clippings
High
None
None
None
Total carbon footprint
High
Low
Intermediate
Very high
Impact on health
Favorable
Favorable
Favorable
Negative
Thermal dissipation
Natural absorption
Natural absorption
Natural absorption
Up to 40% warmer
In conclusion, for small and medium football clubs, natural pitches equipped with a robot mower and high-quality maintenance are the best alternative. The larger football clubs in major towns will do well to combine a synthetic or hybrid football pitch with additional natural areas equipped with e robot mower.