Performance
The Parcmow GPS-RTK is a real concentration of technology. No fewer than 9 stainless-steel blades ensure a perfect cut, regular and silent! 5 sonars stop the blades rotating in the event of encountering an obstacle, thereby guaranteeing safety for everyone. The Parcmow GPS-RTK offers a 63.3 cm wide strip and cuts in pleasing regular stripes. It charging process is automatic and its annual energy consumption is barely 580 kWh.
Attention, in order to benefit from the GPS-RTK technology, your ground must meet certain criteria and not contain too many trees. A good connection is also necessary, along with installation of a terminal.
Mowing capacity up to 45,000 m²
3 independent floating mowing heads
Energy savings
Complete safety thanks to 5 sonars
Mowing capacity

Up to 45.000 m2

Cutting method

3 independent floating mowing heads

Safety

5 sonars
Connected line app and web portal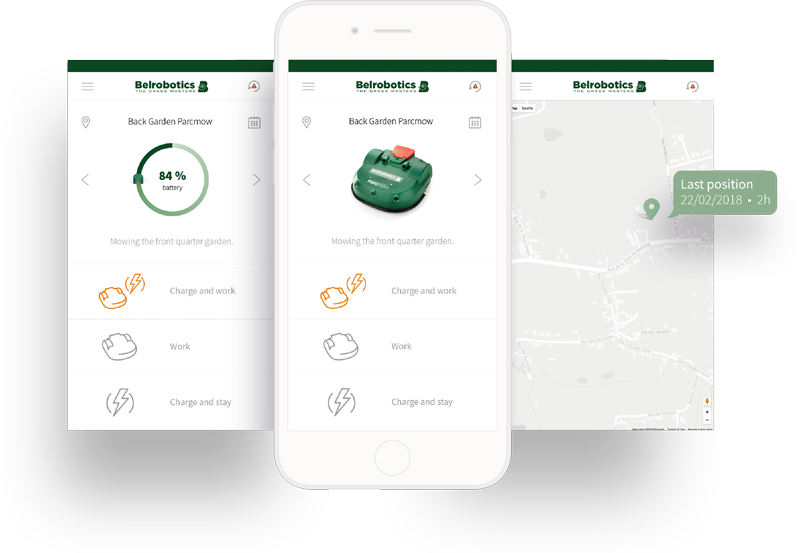 Your robot mower can work completely autonomously, which is due to carefully worked-out programming. And to make your life even easier, our professional automowers are connected to a web portal to allow them to be controlled from the Belrobotics application. You can also manage your fleet of robot mowers entirely from your tablet or your smartphone.
Find out about our simplified user interface, the exceptional user-friendliness of the application and new functions.